Mah Jongg Rules Books Sales
The Wright-Patterson Mah Jongg Group volunteers are taking their holiday break starting December 13, 2014.

Book sales will resume on January 8, 2014.

We wish you the very best of holiday season!



Wright-Patterson OSC MAH JONGG
P.O. BOX 1067
FAIRBORN, OHIO 45324
wpmahjongg@aol.com
2009 Revision
Book Sales – Click HERE for Printable Order Form
Checks and Money Orders MUST be in U.S. dollars and made payable to: WPOSC Mah Jongg.
*Credit card and e-mail orders are not accepted. Do not send your orders via Priority Mail as orders are processed only once weekly.*
Price of each book includes shipping and handling via Media Mail (allow up to 4 weeks for delivery).
For Priority Mail (optional) enclose: 1-18 Books $5.00, 19-36 Books $9.00
For 37 or more books, please contact us via the email address below for postal cost.
Orders going to international addresses are charged based on the current rate to the country for either Priority or Air Mail.
Please include an e-mail address if possible when ordering.
Those desiring information or answers to questions may email: wpmahjongg@aol.com OR mail questions to the above postal address and include a self-addressed stamped envelope for reply.
For our International Customers, please e-mail for further payment information.
WRIGHT-PATTERSON MAH JONGG RULES BOOK
2009 Edition Available Now!
Mah Jongg Book Prices
| | | |
| --- | --- | --- |
| | | |
| Rules | Pictures of the Hands | Teaching Aid |
| $5.00 | $5.00 | $5.00 |
| | |
| --- | --- |
| | |
| Large Print Hands Only | Large Print Rules Only |
| $5.00 | $5.00 |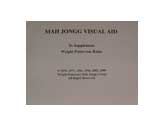 Please note we have a new publication – The Visual Aid in enlarged print with a gray cover. This color intensive book offers illustrations of each hand in bold, bright colors. The book is the same size as the pink and white large print books.
$7.00
*All enlarged print books have no rules or scoring tables.*
*Please remember the usual copyright restrictions apply to these rules and no reproductions may be made.*
Current prices are effective 1 January 2008. Prices are subject to change without notice.
Orders are processed once weekly.