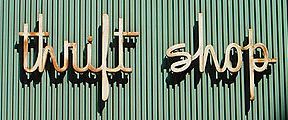 Wright Patterson Thrift Shop

The base thrift shop has moved to its new location.
We are now open for business!
You will find us at
Building 95 on Wright Avenue in Area A
next to Recreation Supply.

Want a sneak peak? Check out our digs on this YouTube Video:


Contact Information:

Thrift Shop Office: (937) 879-5630
24-Hour Information Line: (937) 285-0306
(Call after 12:00 PM on Monday for an updated list of no-take items for the current week.)
We accept cash, checks, and Mastercard and Visa.

Hours of Operation
Tuesday, Wednesday & Friday ~ 9:30 am – 2:00 pm

Hours of Consignment
Tuesday, Wednesday & Friday ~ 9:30 am – 11:30 am

Please note: We are unable to accommodate any evening hours at this time. Continue to check this page and The Wright Word for news about possible evening hours. Thank you for your understanding and patience.
Thrift shop sales directly benefit our WPAFB community in more ways than you can imagine. However, we can't do it without the help of our dedicated volunteers. Volunteering can help you make friends, learn new skills, advance your career, and even stay healthy. To volunteer at the Thrift Shop contact Marsha Hudson at (937) 426-0628.