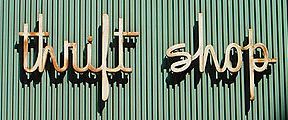 Wright Patterson Thrift Shop

The Thrift Shop is open for business!

Hours: 9:30am – 2:00pm
Tuesday, Wednesday and Friday
Consignments: 9:30am – 11:30am

You will find us at
Building 95 on Wright Avenue in Area A
next to Recreation Supply.

We have been busy cleaning, painting, reorganizing and practicing our fashion merchandising skills for your shopping and consigning pleasure! The shop really looks great! Want a sneak peak? Check it out! (It's even better in person.)

(Click a picture to enlarge.)
Contact Information:
Thrift Shop Office: (937) 879-5630
24-Hour Information Line: (937) 285-0306
We accept cash, checks, and Mastercard and Visa.


Thrift shop sales directly benefit our WPAFB community in more ways than you can imagine. However, we can't do it without the help of our dedicated volunteers. Volunteering can help you make friends, learn new skills, advance your career, and even stay healthy. To volunteer at the Thrift Shop contact Rosemary Miller at (937) 426-0628.




We love our volunteers! Here are some pictures from our Annual Volunteer Appreciation Luncheon:

(Click a picture to enlarge.)